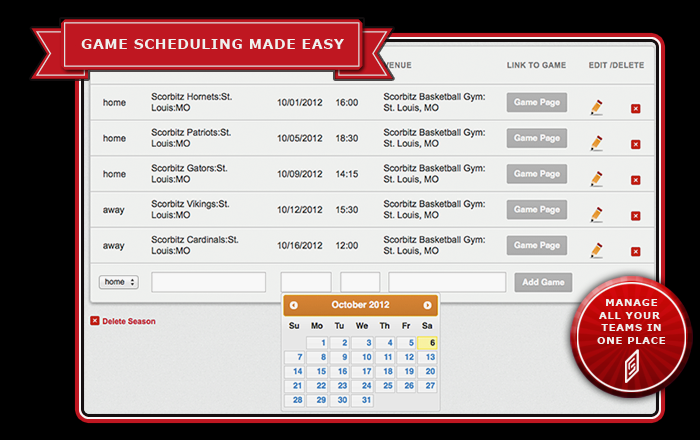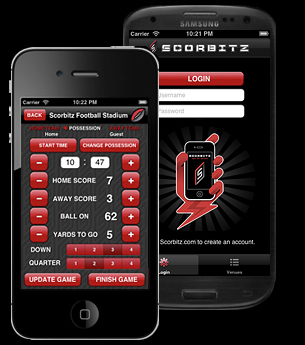 VIRTUAL SCORING APP
The VSA is a manual hand scoring app that allows you to update the time and scores for any game you as an administrator have scheduled on the SCORBITZ system.
VSA availablie only for iOS mobile devices at this time.
The FREE Scorbitz Virtual Scoring App is designed to be used when your team is playing at a venue that isn't connected to a SSG (Scorbitz Scoreboard Gateway) or when there is no scoreboard for the venue (such as youth Soccer Games)
Username and password protect so that only venue owners can access and score their venues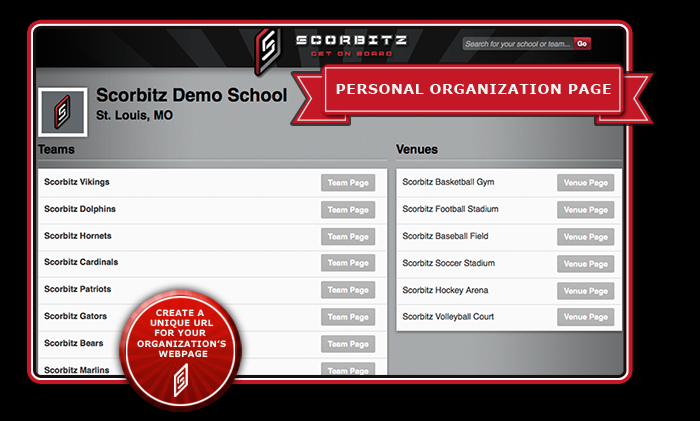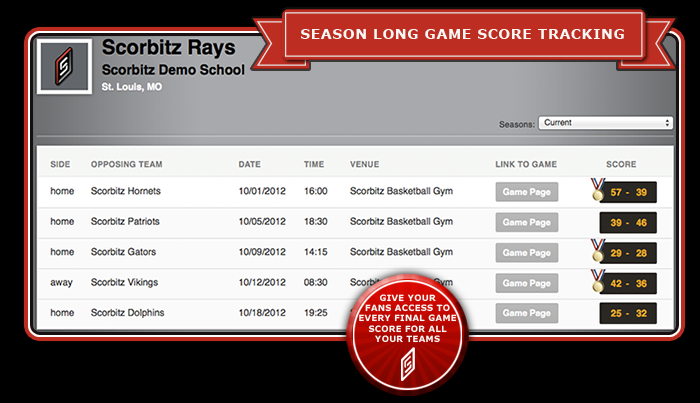 POWERFUL VENUE & EVENT ADMINISTRATION FEATURES:
Offer your fans the latest technology in real-time scores and online fan communities. So your fans can follow all the action from their mobile devices.
Easily manage and communicate all game schedules for each team

Powerful online venue scheduling program built right into the system
Inputting and managing all your team schedules is easy
Provide directions to each game, weather forecasts, and any information you enter regarding the event such as price of admission
Two Scorbitz Apps have you covered

Scorbitz has a free app available for fans to follow all the action
A free admin app is available to manually input scores at away games if other schools you play are not on board yet
Dynamic advertising revenue generation for your venue, school or event surrounding your web and mobile enabled scoreboards

Excite advertisers with online local and regional marketing towards a coveted target audience
Advertisements display on both the website and mobile fans app
It's simple for advertisers to find and
purchase advertising for a game, season or school
All that you have to do is price, view and accept the ads
Scorbitz provides each organization with it's own personal webpage

All your venues and teams listed on one page making it easy for your fans to follow their teams and watch your games online
Personalize your webpage URL to make it easy for your fans to remember ( YourNameHere.scorbitz.com)
Provide exciting pre-game, game-time and post game information through your team's social media channels
Game results automatically recorded and made available to your fans

Scorbitz will provide every game score for all your team's games automatically as soon as the game is finished
Multi-season support means your fans will be able to check any of your team's past season results with ease
Ready to start?